There is an old saying that as soon as February starts, it smells like summer. The reason why Greeks love summer is because it's the time of the year when they open their arms to welcome millions of people from around the globe and their beautiful, sunny country becomes the "it" place for a fabulous holiday!
So this is definitely the best time of the year to start planning your next stay in Greece which must definitely include Mykonos; this blessed Aegean diamond that has been shedding its light and glory on the international jet set ever since the '50s. Because Mykonos is not only about the amazing colors of the sunset on the nearby legendary Delos island, that have inspired artists throughout the centuries, neither the sound of the wind through the monumental stone-made windmills that overlook the harbor, nor the whitewashed small houses with the wooden blue windows and the spectacular scenery of Little Venice neighborhood.
Mykonos is mostly about the explosive energy and 24-7 wild life that attract the most demanding visitors: Hollywood stars, tycoons, famous directors, soccer and basketball legends and worldwide celebrities, who keep visiting this unique paradise year after year, to enjoy golden sand beaches with crystal clear waters, sunbathing till late in the afternoon; drinking and dining in some of the finest bars and restaurants and partying from early noon on the beach until early next morning in one of the many exclusive night clubs.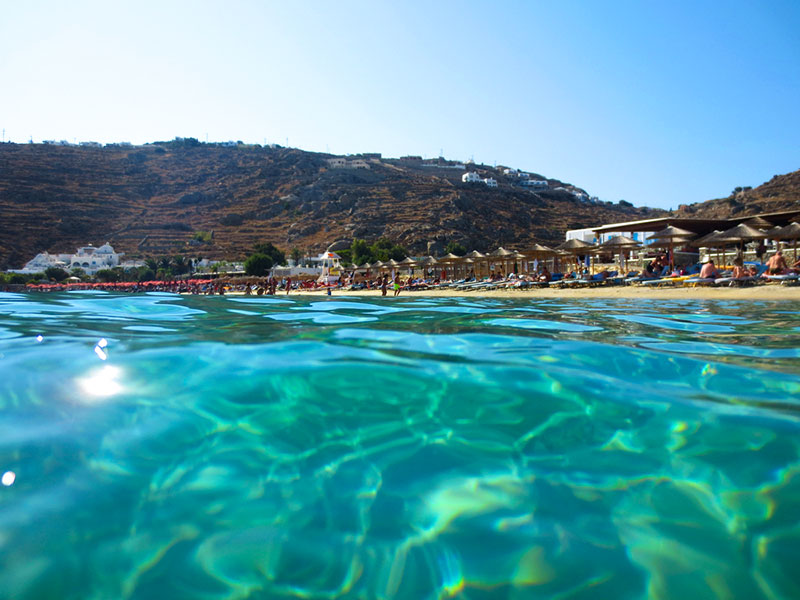 So, maybe it would be wise to start taking some first notes about places to be and things to do when in Mykonos! For instance, for swimming and sunbathing don't miss the cosmopolitan Psarou, the family-friendly Ornos, Paradise where the party is always loud, the more secluded and quiet Agrari, the impressively long Elia or the ideal for snorkeling Lia (see more in our top-10 list featuring the best beaches in Mykonos).
Also, bear in mind that Mykonos has a long tradition in haute gastronomy — both local and international. You will taste great food either in world-renowned restaurants —like Matsuhisa by Nobu, Nammos on Psarou beach and the unique Caprice Sea Satin under the windmills— or in small restaurants and fish taverns. As for bars and clubs, the variety is endless and includes the world's first beach Buddha Bar and the emblematic Remezzo!
Just book your flights and your stay in M Mykonos Villas and there will be a lot more to say!