Summer is loading — but this year's summer seems to be a very strange, totally unusual one, that calls for new habits and maybe for a more relaxed and isolated holiday lifestyle!
The COVID-19 pandemic is changing our lives in ways that we had never imagined before and we are all looking for the best and safest choices for ourselves and our loved ones. So, why don't you leave behind the anxiety of the city and escape in truly luxurious stress-free zones to savor the magic of the blue-colored horizon, where the clear skies meet with the vastness of the deep clear sea waters, under the warmth of the ever shining sun?
All you need to have this blissful experience is do some clever booking for a once-in-a-lifetime stay in Mykonos, the beauty queen of the famous Cyclades — the unique Greek archipelago that includes some of the most beautiful islands in the world! Amazing beaches with beautiful turquoise waters, small deserted spots ideal for snorkeling, breathtaking romantic sunsets and tiny villages with dazzling white houses and dozens of small chapels, "hanging" from rocky cliffs; you can have it all by choosing to stay away from the crowds and get to know this heaven on earth in the most 'royal' way!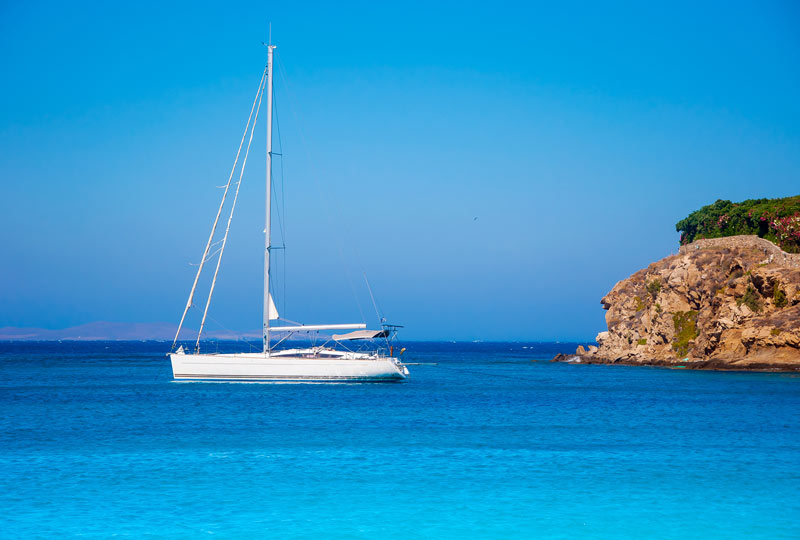 And what could be more 'royal-ish' than sailing around Mykonos' coastline and the neighboring islands, like the sacred Delos Island, world-famous birthplace of Apollo, ancient god of Music?
You can combine your stay at M Mykonos Villas, where all your needs will be met for a most 'healing' relaxation, with a 2– or even 3–day cruise onboard the vessel of your dreams! The agencies operating on the islan offer a large variety of rental boats, from beautiful handcrafted "caiques" to mega-yachts, equipped with state-of-the-art facilities and featuring top quality services. Depending on the weather —as sometimes it can get rather windy in the area— the crew will schedule the ideal itinerary for you and make sure that you will enjoy a most memorable, safe cruise that will be cherished in your heart as a lifetime experience! You will swim in azure crystal waters that you could never even dream of, enjoy the most spectacular watersports, and have a candle-lit dinner on a remote beach, under the amazing starry skies.
Slowing down in Mykonos under the hot sun and with the whole island ready to offer the safest possible holiday experience, will certainly make you feel that every god and goddess of the Greek mythology have joined hands to let you enjoy what could be the best summer of your life!