When all this is over, Mykonos will be more beautiful than ever! Even though it is difficult to imagine this rocking paradise staying still even for a moment, it did. Joining this unprecedented #stayhome global initiative, Mykonians took a large step back, postponing the frenzy of the summer preparations for when it will be time to end the quarantine.
Nobody knows yet how long it will take before the first international flight, full of tourists, will land on the island. It doesn't matter anyhow as it doesn't even necessarily have to be in the heart of summer. Mykonos is beautiful throughout the year and even the best tourist guides fail to show that what one really expects from this blessed Aegean diamond, is the unexpected: the unexpected warmth of the October sea, the stunning autumn colors of the sunset on nearby sacred Delos; the musical sounds that seem to sing along with the wind through the stone made windmills in early spring, the glory of the nature during Easter time in late April or May; there is beauty every time, everywhere waiting to be discovered.
In the summer there is a beach life beyond imagination, with crystal clear waters, velvet sand and the sun shining till late in the afternoon. Some of the beaches are ideal for swimming and lounging, in others the party is always loud, there are family-friendly, nude-friendly, water-sports-friendly, snorkeling-friendly and so many more friendly beaches, including a few remote treasures along the island's coastline.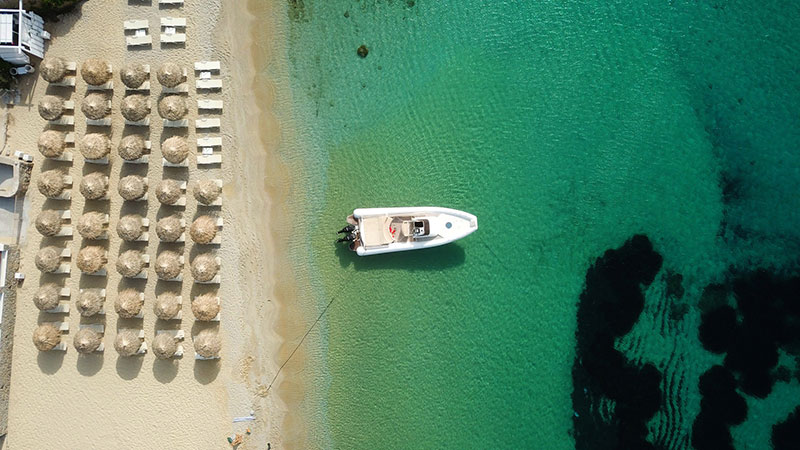 The season usually starts in early April and doesn't end before late October, leaving thus only a short wintertime for the locals to relax and get ready for a more intense, rocking new season. During the rest of the year there is a great variety of things to do and see: a super-hot nightlife, excellent food, exclusive shopping, historical sites, Byzantine churches and monasteries, museums, picturesque corners — and the beauty never ends!
So, as soon as the COVID-19-related restrictions are over, book your stay in Mykonos and plan a most relaxing and at the same time exciting holiday, to wash off the fear and stress we are currently experiencing and feel reborn in the deep blue of the Aegean Sea! And everything around you will be more beautiful than ever before.