As the plane starts descending towards Mykonos' international airport, your breath will be caught by the beauty of the Aegean Sea lying beneath your feet; a precious azure blue "carpet" restlessly moving around small islands and solitary rocks.  During the final approach, you will be able to see dozens of small churches built on hilltops that overlook a lacy coast with dazzling golden sand beaches of all sizes… It is there where your amazing holidays in Greece will begin!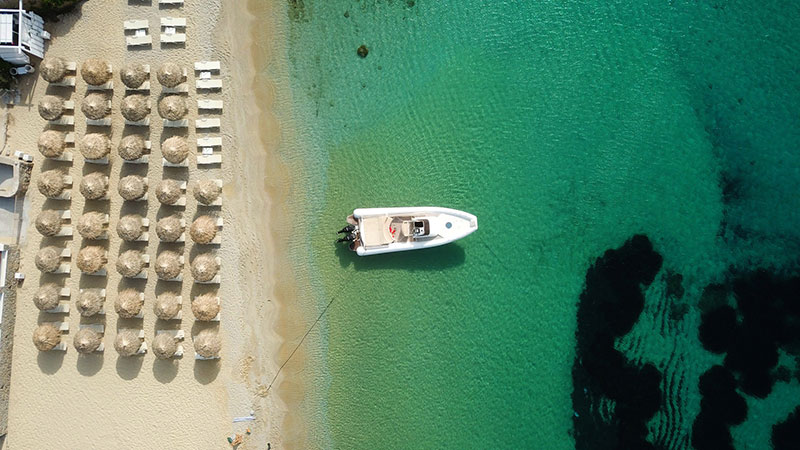 Due to the strong northern winds —known as "meltemi"— that blow during the hot summer months, the most popular beaches in all the islands of the Cyclades are usually located at their southern coasts, offering protection from the wind gusts. Mykonos is no exception to this rule! So, if you are in for the most cosmopolitan, popular beaches with crystal clear waters that call for endless swimming and all kinds of water sports for all ages, let's start from the southern coast of the island, with the not-to-miss top 10 list:
1. Psarou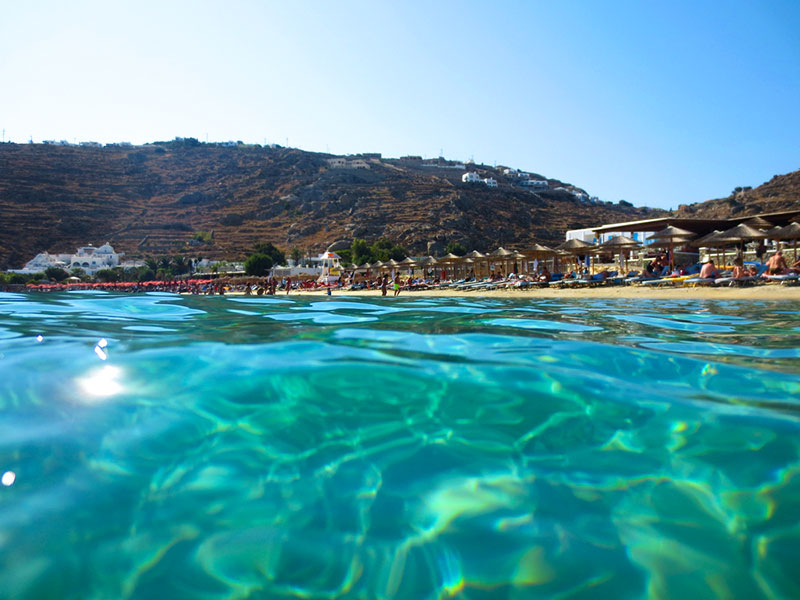 Located 5 km from Mykonos Town and at a short distance from M Mykonos Villas, Psarou is THE place where celebrities spend their days swimming and sunbathing! It is advisable that you make early reservations both for a sun bed and for a table at the famous, nearby Nammos all-day restaurant.
2. Platys Gialos
Located within walking distance from Psarrou, it is a usually crowded, wide sandy beach, featuring a lot of restaurants and taverns.
3. Agia Anna
Also at a walking distance from Platys Gialos, Agia Anna is a much quieter beach where you can eat really well and enjoy your swim.
4. Ornos
Only 3 km south of Mykonos town, Ornos is a family-friendly beach, featuring many restaurants serving Greek and international food.
5. Paradise
Ideal for a younger audience, this beach is a true paradise for those who love partying from noon to late in the evening, when the music is still loud.
6. Super Paradise
7 km southeast of Chora, it is a rather small, busy beach that used to be a nudists' "shrine". Today it is a gay paradise where the music plays loud all day.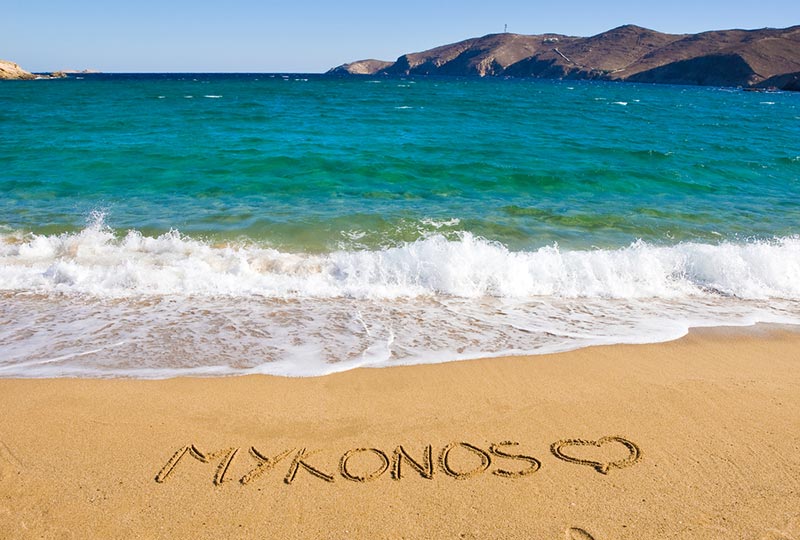 7. Paraga
Quite near to Super Paradise, Paraga is a very popular beautiful beach, featuring many restaurants and bars.
8. Agrari
Many say it is the most attractive, quiet sandy beaches in Mykonos, with only one restaurant available for lunch.
9. Elia
It is an exceptionally beautiful beach, perfect choice kfor long hours of enjoying the sea and the sun.
10. Lia
About 25 minutes by car from Mykonos Town, Lia is an amazing beach, ideal for snorkeling.
During your stay in M Mykonos Villas, just ask us to arrange for you a car rental or transportation to the destination of your wish (see our VIP & Concierge Services). Whatever beach you choose, one thing is for sure: you will enjoy crystal clear waters and immerse yourself in the inimitable beauty of Mykonos!