In 1954, after queen Frederique of Greece invited royalties from all over Europe on a cruise around the Cyclades, including a visit to Mykonos. This small, beautiful, fishermen island, with the white-washed houses, golden sandy beaches, sunny skies, and amazing azure blue coastline started attracting famous tycoons like Aristotle Onassis, Hollywood stars like Grace Kelly, legends like Maria Callas and many other celebrities of the time. For them, Mykonos was love at first sight and eventually became their almost private paradise that soon evolved into one of the world's most desired destination for the rich and the famous. Back then, there was no airport on the island. Just an old port, too shallow for bigger vessels though, which had to anchor in the open sea and bring passengers (and luggage) ashore, on small fishermen boats.
The first thing incomers would see while waiting for their turn to disembark was the seven huge, stone-made windmills, situated in the Kato Mili area, on a hill that overlooked the Town of Mykonos (Chora) and the most picturesque Little Venice neighborhood. With their wings open, the strange three-stores buildings looked like friendly giants, opening their arms to welcome exhausted travelers who had sailed for long hours, often in a rough sea to visit Mykonos.
Windmills are a trademark not only of Mykonos but of most Cycladic islands. Standing tall and proud yet often deserted they are witnesses of a strong manufacturing activity in the area, between the 16th and the 19th century, which aimed at grinding agricultural yields, mostly wheat and barley. Powered by the strong, north "meltemi" winds, these tireless "workers" produced tons of excellent flour, out of which were made the famous Cycladic rusks.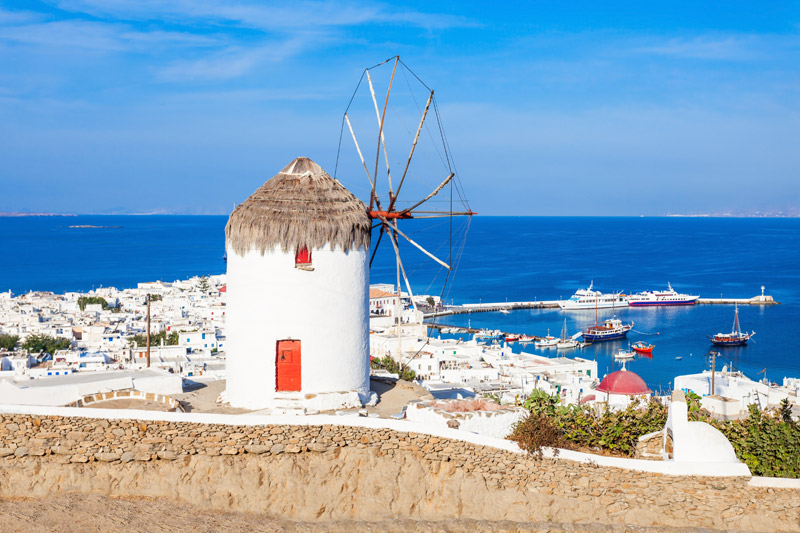 According to the locals there used to be at least 28 windmills in Mykonos, including the ones in Kato Mili that still "greet" the visitors of the island. Only 16 survived, among which, the majority have been totally renovated and converted into museums, galleries, houses, and hotels. Two of them can be visited: Geronymos Mill, the privately owned, oldest remaining windmill in Mykonos that dates to 1700 and Bonis Mill, heart of Mykonos' Agricultural Museum, where visitors can relive the whole process of making flour. Every year, on the second Sunday of September, a Harvest Festival is organized at Bonis Mill, where guests are offered local food and drinks.