It's mid-October and huge cruise ships from distant destinations keep arriving at the port of Mykonos. The weather is summerish, with plenty of sunshine and temperatures rising at an average of 26-28 (even 30) degrees Celsius. Great opportunity to explore the stunning sandy beaches that get extremely crowded during the high season. At this time of the year, it is wise to go for a shorter swim —since the air is fresher now— and spend the rest of the time touring this spectacular island that never loses its upbeat and explosive energy.
Among the thousand attractions one can enjoy in Mykonos, three are the ones that will make you want to come back every year: its amazing coastline, its rocking nightlife, and the great food!
There are hundreds of restaurants on the island to cater for even the most extreme culinary requirements of travelers. From exclusive restaurants serving the latest trends of the international cuisine, to small family-run seaside tavernas serving fresh fish or the famous Greek tradition of souvlaki "centers" offering this extravagantly delicious lunch or dinner in hand, Mykonos is a home of top gastronomy.
Walking through the picturesque cobblestone streets of Mykonos Town, the air is filled with the tickling smells of freshly baked bread, local herbs and food baking in the locals' houses. Let yourself indulge in this mouthwatering experience and before leaving Mykonos, make sure that you have tasted the best local delicacies, such as:
Louza: made from fine pork filet, it is a type of sausage and a great appetizer to accompany ouzo, raki, or wine.
Kopanisti cheese is one of the 3 types of cheeses made in Mykonos, It is a spicy goat milk cheese with a rich texture, usually used as a snack, spread on bread or rusk with extra virgin olive oil, oregano, and tomato
Xinotiro: its name means sour cheese and it will remind you both of Greek feta and Kopanisti. The fact that it is left in the sun to dry for long makes Xinotiro perfect for pasta dishes.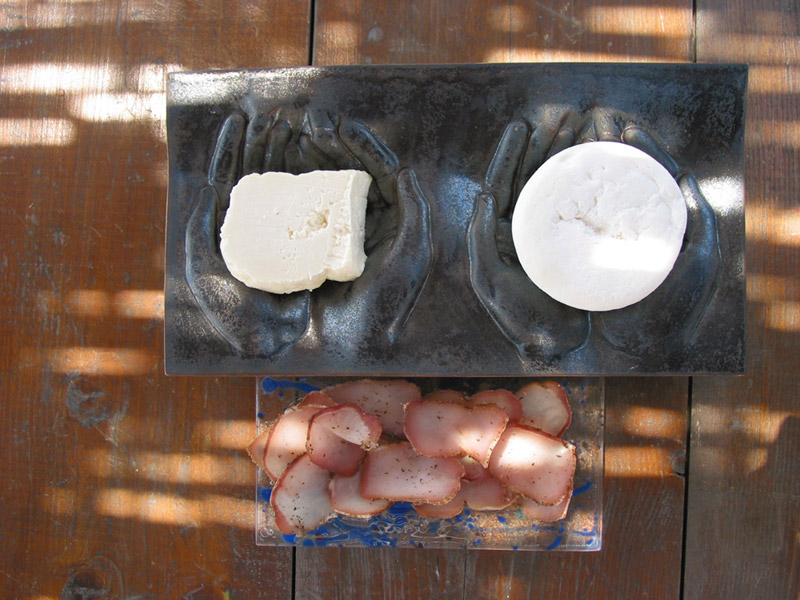 Onion pie (Kremidopita). Made with sweet onions, local aromatics, the local cheese Trivolia (soft, white cheese), and extra virgin olive oil, it is a top delicacy.
Kalathaki is a mouthwatering sweet almond cake present in almost every Mykonos tradition, like weddings and christenings.
Especially during the summer don't miss the opportunity to join some of the many tasting tours, like wine tastings at traditional farms, sailing cruises with local food tasting, cooking classes, theme tastings with Greek ancient varieties, fish or BBQ picnics on the beach, and many more food and culture tours!